Typical Specification Of Poly(ε-caprolactone)
Product characteristics and Application:
Poly-ε- caprolactone (PCL) has excellent biocompatibility, memory, biodegradability, etc., it is widely used in various fields, polycaprolactone soft, ease of processing, excellent performance, do tissue engineering scaffold. Highly crystalline polycaprolactone, slow degradation. It degradation in vivo in two stages: the first stage performance of the molecular weight of the declining, but the strain and weight loss does not occur; refers to the molecular weight of the second stage is reduced to a certain value, the material begins to weightlessness, and is gradually absorbed by the body excretion.
Applications: surgical medical field surgical sutures, orthopedic splints, radiotherapy plate, resin bandages, dental impression and the like; urethane resin art coatings, inks, adhesives, non-woven adhesive, shoe materials, structural adhesive etc; composite packaging film and art blown film, laminated materials; handmade model in other areas, organic colorants, powder coatings.
Item

Specification

Detection method

Intrinsic viscosity

0.3-11dl/g

Ubbelohde viscometer

Viscosity average MW

Number average MW

1-100w

1-100w

Ubbelohde viscometer

GPC

Glass transition temp

-60℃

DSC

Melting point

Residual monomer

Residual solvent

Heavy metals

Density

Sulfate ash

>63℃

max 1%

max 0.1%

max 10 ppm

1.0-1.2g/cm3

Max 0.05%

---

GC&LC

----

weighing residue allowance
Product type:

| | | |
| --- | --- | --- |
| Model | Chemical Name | Intrinsic viscosity rangedl/g |
| PCL-05 | Poly(ε-caprolactone) | 0.30-0.75 |
| PCL-10 | Poly(ε-caprolactone) | 0.75-1.25 |
| PCL-15 | Poly(ε-caprolactone) | 1.25-1.75 |
| PCL-20 | Poly(ε-caprolactone) | 1.75-2.25 |
| PCL-25 | Poly(ε-caprolactone) | 2.25-3.00 |
| PCL-35 | Poly(ε-caprolactone) | 3.00-4.25 |
| PCL-50 | Poly(ε-caprolactone) | 4.25-6.00 |
| PCL-70 | Poly(ε-caprolactone) | 6.00-8.25 |
| PCL-95 | Poly(ε-caprolactone) | 8.25-11.25 |
| PCL-00 | Poly(ε-caprolactone) | >11.25 |
Poly(ε-caprolactone) Infrared Spectrum: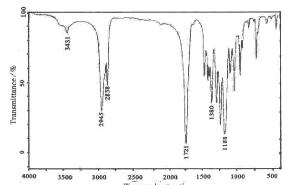 Wherein about 1380cm-1 is a hydroxyl group -OH bending vibration peak; 1188cm-1 is about -COC- stretching vibration absorption peak; 1721 cm-1 for the carbonyl group of about C = O stretching vibration absorption peak; 2945,2858cm-1 around is CH stretching vibration; 3431cm-1 occurs around a broad peak is -OH stretching vibration peak, indicating that the polymer containing hydroxyl end groups.
Storage Condition:
■ According to biodegradable materials,in order to ensure product quality,a special package to aviod water is very neccessary.
■ We filled high qurity dry nitorgen in the Polyethylene bag for hot plastic, the outer lining of thermal plastic foil pouch, built-in desiccant. All the packing is done in a highly clean room.
■ All of the polymers should be stored at 0 ° C or less, and should prevent hydrolysis. Before opening, the product should be allowed to adjust to room temperature to avoid condensation polymer concentrate combined with moisture in the bag. To re-opened after the product packaging sealing, must be of high purity dry nitrogen filled to prevent moisture generated in the bag.