Typical Specification Of Poly(D,L-lactide)
Product characteristics and Application:From racemic poly lactic acid made from biological products good compatibility and for drug delivery carrier - the drug entrapped in the polymer matrix form microspheres or particles; FDA approved available for injection with microcapsules and microspheres and implants and corrosion inhibitor of accessories and internal fixation device; used for cell culture of tissue engineering porous foam scaffold; bone fixed or tissue repair materials for tissue engineering; surgical suture; implants and clamp; artificial skin, artificial blood vessel; ophthalmic implant materials retina.
Processing technology:Injection molding、Melt spinning Etc。

Item

Specification

Detection method

Intrinsic viscosity

0.18-4dl/g

Ubbelohde viscometer

Viscosity average MW

Number average MW

1-100w

1-100w

Ubbelohde viscometer

GPC

Glass transition temp

50-60℃

DSC

Melting point(Tm)

Residual monomer

Residual solvent

Heavy metals

Density

Sulfate ash

Tm=175-185℃

Max 1%


Max 0.05%

Max 10 ppm

1.20-1.30 g/cm3

Max 0.05%

GC&LC

----

weighing residue allowance
Product type:
Model

Chemical Name

Intrinsic viscosity range

dL/g

PDLLA-03

Poly(D,L-lactide)

0.18-0.30

PDLLA-05

Poly(D,L-lactide)

0.30-0.50

PDLLA-07

Poly(D,L-lactide)

0.50-0.70

PDLLA-10

Poly(D,L-lactide)

0.70-1.00

PDLLA-15

Poly(D,L-lactide)

1.00-1.50

PDLLA-20

Poly(D,L-lactide)

1.50-2.00

PDLLA-25

Poly(D,L-lactide)

2.00-2.50

PDLLA-30

Poly(D,L-lactide)

2.50-3.00

PDLLA-40

Poly(D,L-lactide)

3.00-4.00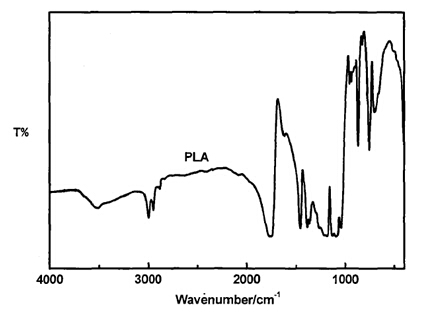 Poly(L-lactide) Infrared Spectrum:Among them about 1250cm-1 C-O-C asymmetric stretching vibration peak, about others C-O-C symmetric stretching vibration peak, around 1750 cm-1 for the carbonyl absorption peak, 3500cm 1 about - Oh absorption peak, and 2890cm-1 2960cm-1 for and CH3.

Storage Condition:
■ According to biodegradable materials,in order to ensure product quality,a special package to aviod water is very neccessary.
■ We filled high qurity dry nitorgen in the Polyethylene bag for hot plastic, the outer lining of thermal plastic foil pouch, built-in desiccant. All the packing is done in a highly clean room.
■ All of the polymers should be stored at 0 ° C or less, and should prevent hydrolysis. Before opening, the product should be allowed to adjust to room temperature to avoid condensation polymer concentrate combined with moisture in the bag. To re-opened after the product packaging sealing, must be of high purity dry nitrogen filled to prevent moisture generated in the bag.